From left to right, Captain Lance, deckhand Makena, deckhand Jean Luc, Ikena, Lead Captain Brit, & our son Gabe.
Meet our Crew (Ohana)"Family"!
The crew are super nice guys, they have an abundant local knowledge of our oceans off Kauai & how to fish them. They are consistent in the work ethic and respectful of all. So meet our ohana, our guys are the best!
Jean Luc & Britt with a 850 lb Marlin and 2 Ahi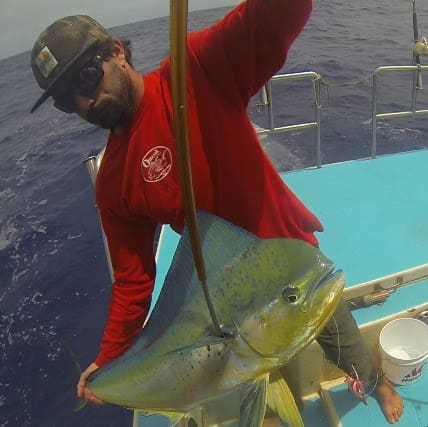 Captain Lance pulling in a Mahi Mahi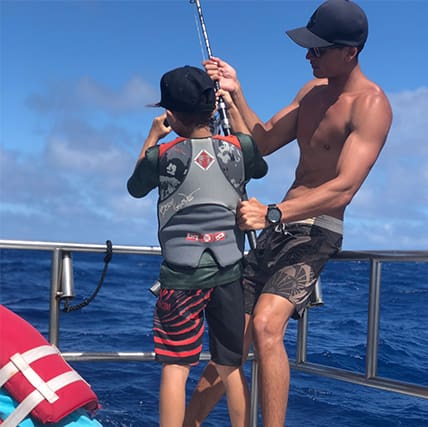 Makena deckhand helping Makana
Lead Captain & Manager, Britt
Lead Captain & Manager Brit has operated boats down the Napali Coast of Kauai, captain surf boats in Indonesia & several other fishing boats in Nawiliwili harbor. For his age he is at the top of his game and that's why he was hand picked by Lance . An avid water man, surfer and just a super nice guy.
Captain Lance
Captain Lance the fearless leader of his crewman with over 30 years experience in the sport fishing industry. Knowledgeable and dedicated to his love of fishing. " I have been on the ocean my whole life, fishing & surfing, I am blessed to make a living doing something I love".
Makena
Hardworking a quick learner born with a fishing pole in his hand. He too like the others is definitely a water man (kai kane). He is one of four boys in his family, they all fish. He will spend his off time hunting in the mountains, fishing from shore, surfing w/ friends. A true local boy with a heart of gold.
Jean Luc
Born and raised on the North shore of Kauai, been on boats since before he was out of diapers. Has been commercial fishing his whole young life. Capt. Lance remembers seeing him super young at Hanalei fishing from the shore, just always near the water and fishing. He also states that Jean Luc is probably the best deckhand around for his age.
Isaiah
Isaiah is the youngest member of our team. He moved here at a young age and started fishing, diving, surfing and hunting Kauai's waters and land. He is an excellent fisherman at such a young age and we are stoked to have him on our team.
Our fishing charters in Kauai fill up quickly. Don't delay – book your excursion, today! Book