Kauai Fishing Charter: The Waters and The Fish
Kauai has some of the best fishing grounds in the state of Hawaii. On any trip there is potential to catch a world class trophy fish. The current world record marlin was caught in the channel between Oahu and Kauai, weighing it at an incredible 1,800 pounds.The waters off Kauai are extremely deep, causing an upwelling of nutrients that makes for an environment rich in marine life. The pelagic species that frequent our waters are Blue and Stripe Marlin, Ahi (Yellow fin tuna), Mahi mahi, and Ono (Wahoo).Other species we catch are Albacore, Short-billed Spearfish, Blue Marlin (caught all yr), and Sailfish, but these species are far more rare.Want to make a reservation? Call us at (808) 635-8442, or email us at [email protected].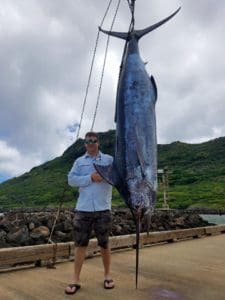 Blue Marlin
Blue Marlin are probably the most exciting fish to catch due to their incredible power and beauty. Often marlin will jump or tail walk pulling off as much as 1000 yards of line in one run. Captain Lance's largest blue marlin to date is 986 pounds, although most range from 150 to 500 pounds on average . Blue marlin are caught March through November, but the best months are June through August.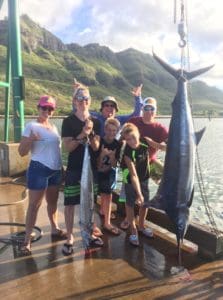 Striped Marlin
Stripe Marlin, while smaller, are a real challenge on light line and will attack the lures in packs of up to six fish. These fish species ranges from 30 to 150 pounds and are caught from December through May.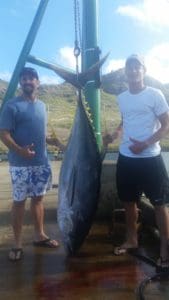 Ahi
Ahi (or Yellow Fin Tuna) are an extremely powerful fish ranging in size from about 8 to 250 pounds. Although they frequent Kauai year-round, the best time to catch one over 100 pounds is April through August.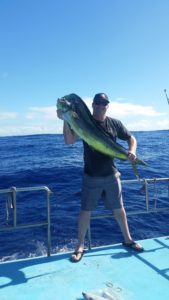 Mahi Mahi
Mahi Mahi is one of the best fish to catch. Not only do they taste great, but they jump, pull hard, and have beautiful colors. They are also the most popular fish made into a trophy mount. Mahi's are here all year-round, but are most plentiful in the spring and fall.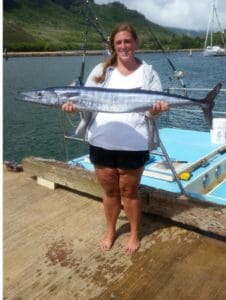 Ono
Ono are exactly what their name means in Hawaiian: delicious. Also called Wahoo, they're by far one of Captain Lance's favorite fish. They have an explosive strike and incredibly powerful runs. Ono can swim upwards of 50 miles an hour making them one of the fastest fish in the ocean.When they're biting it's possible to get 10 to 20 strikes on a four hour trip. That's strikes, not landed fish! The reason for this is that Ono have some of the sharpest teeth in the ocean, enabling them to bite through 450 pound test in two shakes. Best caught Spring & Fall, but can be caught all year round. Summer time trolling for Ahi you can catch BIG Ono as well.
Our fishing charters in Kauai fill up quickly. Don't delay – book your excursion, today! Book