The Ho'o Maika'i: Perfect for Kauai Ocean Fishing

When deciding what boat would be best for the Kauai conditions Captain Lance had only one boat in mind. The Ho'o Maika'i is a 30×10 foot Wilson built in Santa Barbara for the rough waters of the Santa Barbara Channel Islands. This boat rides like no other boat in the Kauai fishing fleet.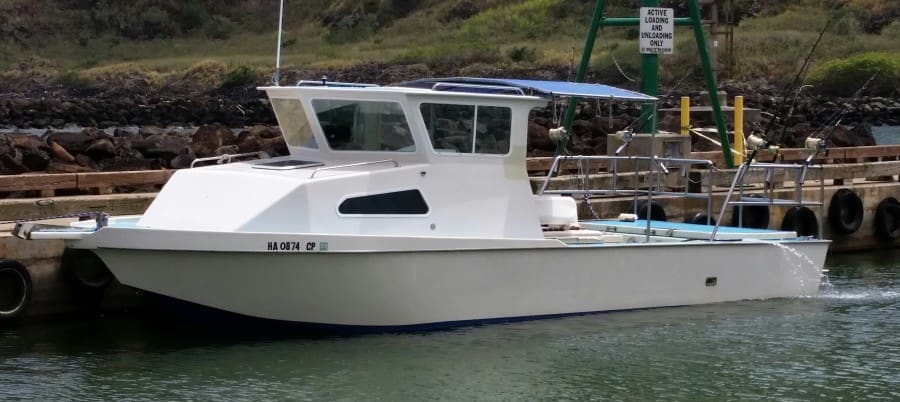 The most important thing to the Captain is the safety of his guests. Of almost equal importance is the comfort of each person on the trip. The Ho'o Maika'i is one of the most stable boats on island, making it not only a safe boat, but one that rides better in the water.
Powered with two diesel motors and 400 horse power she is safe, stable, and clean. She is also equipped with up-to-date electronics and top of the line fishing gear. Her maintenance record is impeccable, which becomes readily apparent when you see how clean and well-kept she is.
The seating on this boat is arranged so that our guests get a more personal experience with our Captains. The feeling is intimate enough to carry on an easy conversation with Captain, but roomy enough to allow for a sense of space and comfort.
Ho'o Maika'i translates to thanksgiving in the English language. We at 'Ohana Fishing Charters are truly thankful for the blessings this boat has brought us and our clients.
Questions? Call us at (808) 635-8442.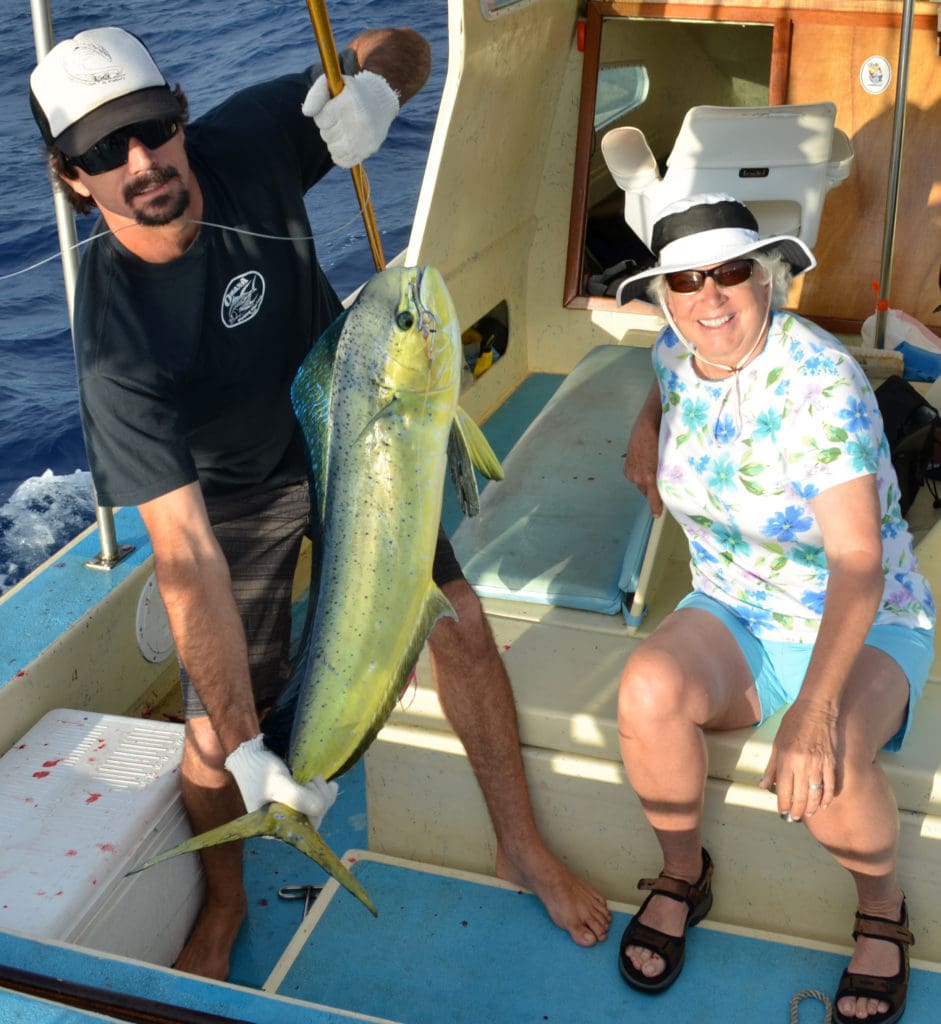 Captain Lance

With over 30 years of experience, Lance Keener's journey has taken him from the Santa Barbara Channel Islands to the Northern Marianas Islands to the Hawaiian Islands. Having spent his entire life in and around the ocean, fishing is in Lance's blood.Lance began his career in the fishing industry at age 14, scrubbing boats in Santa Barbara Harbor so the other captains would take him fishing. The captains must have seen something special in the kid with a keen desire to be on the open ocean. Before long, Lance got his first job working on the deck of a commercial boat. By the age of 19, Lance had his Master 100 Ton Captain License and began running some of the boats he grew up working on. Lance was soon sought out by a water sports company based on the island of Saipan, where he worked for four years. His time in Saipan exposed him to big game fishing using productive Micronesian fishing techniques. With this knowledge, he was jump-started as a world-class fishing captain at the ripe old age of 23.
Job offers came in from all over the world, and 20 years ago Captain Lance chose Kauai as the place to settle down and plant roots. Lance's close relationship with local fisherman over the years has taught him traditional Hawaiian methods and provided him with insight into some of the most cutting edge fishing techniques in the world.
Captain Lance offers a unique experience you will never forget. His unique perspective on fishing comes from a diverse background that has taken him from one end of the Pacific to the other. His genuine excitement for the sport combined with a take-it-as-it-comes attitude makes a trip with him a memorable experience.
Whether you're a seasoned fisherman, a first timer looking for a new adventure, or are interested in taking the family out for a day of fish and fun, you've got the right Captain and hand picked Captains and crew with Ohana!
Kelsey S.
Best fishing charter I have ever gone with…and I've fished a lot! Lance is super friendly and very knowledgeable. We hammered 13 yellowfin in just a few hours. Others were getting skunked on the same day. I'm coming back just to fish Ohana again!
Calvin R.
Lance is an amazing captain and Makena was a great co-captain. Not only did I catch a ton of fish but they catered to my every need. What a class act. I will use them next year when I return. Do your self a favor call them first.
Brian C.
Captain Britt and Jon Luc delivered an awesome day of fishing….nice yellowfin tuna, skipjack, and big eye. Nice boat, super crew, and clearly Lance knows where the fish are and what they're biting on. Highly recommend these guys! My 7 year old boy had a great time too, and they helped him reel in his first tuna.
Michael C.
We he a great time with Capt. Lance and Rayne we caught fish which is always a plus. I will definitely book another trip with these guys on our next visit to Kauai.
Ted B.
Our time with Ohana Fishing Charters (Capt. Spencer & Jon Luc) was the most exciting thing to happen to me in years! We booked a Private charter for our family and almost all caught something. Making memories with Ohana is something we look forward to doing again. Stellar charter company!
Britt grew up in Hanalei, on the North Shore of Kauai. He has been in the water ever since he was born – surfing and fishing around the island. He is one of the youngest and most talented captains around!
He started working on the boats when he was 16, started capitaining when he was 20 on fishing chartres and Na pali tours. When he was 25, he ran a surf charter boat in the most remote parts of Indonesia for 4 years. When he came back he started working with Lance at Ohana fishing charters and the rest is history.
He is an experienced waterman and fisherman, always in communication with the rest of the fishermen around and knows the scoop and will always have a good story to tell. He loves what he does and if you ask him he will tell you that he is "living the dream!".